Friday
We went to B.J.'s Restaurant & Brewhouse and my wife guilted me out of ordering a beer. With just a two-second look. Instead, I ordered a Diet Pepsi. When I stroke out, that'll show her. Then we went to Party City. Which is just about the worst place in the world to go the weekend before Halloween. If you needed a reason to start hating people, go there. I was pushing the twins around in their double-wide stroller, so that didn't help. Nor did the obstacles the store throws in between aisles. Or the one way only wide alleys packing products on each side. But I suppose plenty of store space wouldn't have made the other customers less self-centered, pushy, inconsiderate and messy than they already were. Man, I feel old.
Saturday
One benefit of participating in the CHOC Walk as a walker is Disneyland offers greatly discounted tickets for those with wristbands from the event, on the day of the event only. The caveat is you have to use the tickets by the second week of November. We bought Disneyland tickets only, as opposed to the Park Hopper which also allows you into Disney's California Adventure. Tickets cost just $48, down from the $92 that they retail for. And even though we just went for Mickey's Halloween Party on Wednesday, we crammed in a day at the Magic Kingdom around my wife's work schedule. I thought it'd be fun to not tell the kids and just show up. Which we did. But they weren't as thrilled as I'd hoped.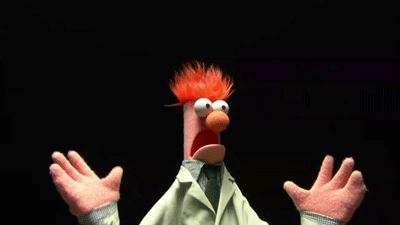 That's the reaction I wanted.
It was really crowded. But since we were just there on Wednesday, and already went on the Haunted Mansion/Nightmare Before Christmas twice, we skipped the one-hour-minimum wait. We only hit up Pirates of the Caribbean once. And instead focused our time to some new experiences.
Gray's obsessed with pirates, but we haven't hit up the pirate ship at Disneyland yet, so I made that a priority. We climbed aboard the Columbia with his Jack Sparrow hat and sword in tow and set out to pillage, plunder, rifle and loot.
He was beyond thrilled.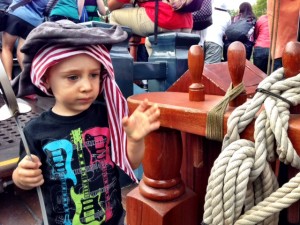 Towards the end of the voyage Gray approached a boy, probably about 4-years-old, geared up in a pirate outfit, a drawn-on beard and holding a sword. The boy looked nervous as I did. I totally thought a sword fight would break out. Fortunately the older boy wanted nothing to do with my crazy little swashbuckler.
Once docked we made our way across the Rivers of America on a log raft and boarded Pirate's Lair at Tom Sawyer Island. I was too busy keeping track of Gray and Ellie as they explored to snap pics (it's stressful!), so here are some I've found online.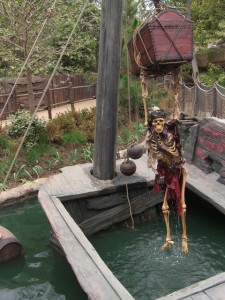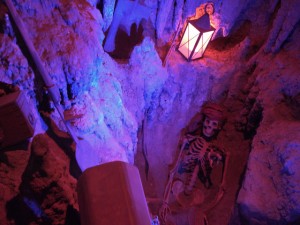 The kids cruised caves, climbed steps, bounced on bridges and avoided a herd of older kids chasing each other before we came across a motherload of treasure, to Gray's delight.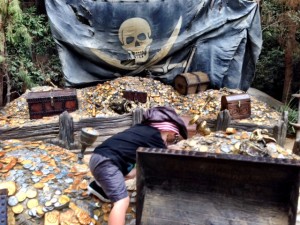 We probably would've spent the rest of the day on the island. Unfortunately, it was closing 45 minutes after we arrived. This is what makes getting a Disneyland Annual Pass tempting. Being able to dress him up, load him with pirate gear and spend three hours pretending to kidnap and ravage and not give a hoot. But then there's the suffocating trek back to the Pirates of the Caribbean line. And my idea of timeless fun evaporates as I want to stab everyone in the carotid with a pen.
Meanwhile, Ellie spent most of the day either being held or in tears. She seemed tired. But then she'd say her toes hurt, and that she couldn't walk. And if you looked at her wrong she'd cry. I don't remember what this tantrum was about, but she was u-p-s-e-t.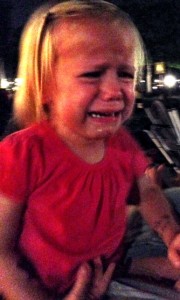 The one thing that did make her smile and her forget her worries was the Buzz Lightyear Astro Blasters ride. On this one, you shoot targets with your blaster while sitting in a moving car. She easily beat Gray both times we rode it. And she was so excited afterwards she chose the blaster as the souvenir to take from the park that day.
Sunday
After a full day at Disneyland we all slept in. Ellie went shopping with my wife and her mom to prep for Halloween week while Gray and I played at home.
At night I took the kids to Saddleback Church's Blocktober party, which each of the church's campuses put on for their local communities. In Corona trunk-or-treat cars created an alley for kids to score candy, there were bounce houses, a mechanical bull, food and a dance party area.
No, Ellie wasn't dressed as a stripper. She's supposed to be Minnie Mouse. But ya, she looks like a stripper.
One of the songs during the dance party was the oddly popular The Fox (What Does the Fox Say?). If you don't know what I'm talking about, watch the clip below. The whole thing. You need to get caught up on pop culture.
After we left the party I started singing the song, and the kids thought it was funny. Soon, they were giggling after every chorus. So I loaded up YouTube on my phone so they could watch the video. The rest of the night was filled with both of them, in the dark van WAIVING GLOW STICKS, chanting "What Does the Fox Say? ring-ding-ding-ding-ding." And they were dressed in costumes. I felt like I was transported to an empty spot in the desert that you only find because you stumbled upon a flier while exiting the 91 freeway in Riverside. I just needed some E.
Meanwhile, my wife and her mom beautifully decorated our the house for Halloween. After taking a year off, we're back to hosting Halloween at our house and in our neighborhood. It's always a good time. If you're interested in joining us, hit me up and I'll give you the details.
How was your weekend?