Feel free to comment about your weekend. The idea of this post was to engage community responses. 
Friday
My parents returned from a long vacation in Montana, so they had the twins spend the night. My wife and I had a much-needed date night. We braved the humidity, went to dinner and went home. I know it's lame, but doing anything that doesn't include the kids is a good night for us. What matters in date night is that we're alone together. We grabbed some Yogurtland and rented The Perks of Being a Wallflower from iTunes.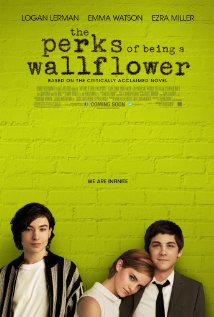 The flick scored an 85 percent approval rate at Rotten Tomatoes. Here's a snippet from that site:
Based on the best-selling novel by Stephen Chbosky, The Perks of Being a Wallflower is a modern classic that captures the dizzying highs and crushing lows of growing up. Starring Logan Lerman, Emma Watson and Ezra Miller, The Perks of Being a Wallflower is a moving tale of love, loss, fear and hope-and the unforgettable friends that help us through life. — (C) Summit
We both really enjoyed it. It's funny, honest and endearing and kept us interested through the end. The soundtrack is fab. If you've seen the movie, you remember the "tunnel song." David Bowie recorded the track and co-wrote it with Brian Eno. It's pretty awesome.
Saturday
We grabbed some brunch at Goodfellas. The plan was to pick up the kids and head down to the San Diego Zoo. Our annual passes expired after Saturday. That didn't happen. The 5 freeway was slammed. Thanks to my dad for checking before we left. Instead, we left the kids at my parents to nap and my wife coerced me to go to Ikea with her.
We picked up a few things after winding through the labyrinth of the store's layout. Her next idea was to hit up Jo-Ann, the fabric/craft store. Hellllllllllllll no.
"There's a bar right next to the store," she said. "I can shop and you can get a beer."
Perfect. Except that the bar, Marty's Cocktails on Tustin Ave in Orange, looked like the last door I'd ever enter. I made a joke about dying in there and she bursted "I KNOW!!!! You're NOT going in there."
So I ended up at the Red Robin bar at the Orange Mall (or whatever it's called now). It was air conditioned. The Angels/Brewers game was on and I sat alone. It's all I needed.
I started off with a Jack-and-Coke, added a tall beer and figured I'd be done. But my wife was having a tough time picking out material that would add some color to our living room. She wants to sew new pillow covers. So I kept telling the bartender to refill my glass with Jack until she was done. Three glasses later she finally text me that she was in the car to come pick me up. And I had a wonderful buzz.
She drove back to my parents, we picked up the kids, somehow sailed home on the 91 freeway (I guess every single person in So Cal was going to San Diego) and grabbed some dinner.
Sunday
Gray made this in Sunday school. The teachers claim they couldn't find Ellie's. She told us her favorite color was pink and her favorite food macaroni and cheese.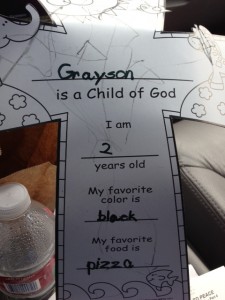 After church we drove out to my wife's grandpa's house in Pico Rivera for a barbecue. G-o-o-d f-o-o-d. There's no air conditioning in the house so we let the kids run around in the backyard with the hose. It's the first time we've participated in water play with them since Jax died. They had a blast and we found some shade with a breeze to cool off under.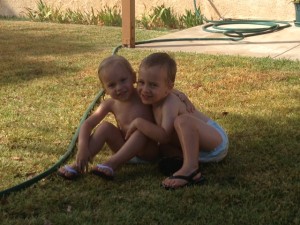 After drying them off, cleaning them up and taping new diapers to their butts, we had ice cream.
As is customary, I shared my bowl with the twins. Gray sat next to me on the couch while Ellie wandered around the house trying to mooch off of everyone.
"Ice cream's awesome," Gray said. Yes. Yes it is.
Monday
Lazy day. We went to the movies and watched Despicable Me 2 which was a noticeable improvement over Planes.
The rest of the day the kids played. Gray's really into wearing a backpack lately. He and Ellie have matching Paul Frank black backpacks. After their nap, he was strutting around with it strapped to his shoulders saying he was looking for the school bus.
Tomorrow my wife starts Potty Training Boot Camp. I wince just thinking about it. Two 2-year-olds, no diapers, no panties. Luckily, no carpet. She came home from Target today with a plastic tarp (she claims it's for the couches). Totally serious. The goal is by the end of Thursday we'll be done with daytime diapers and the Mickey and Minnie potties they have will be our new world. At least until we can get them on the big toilet with a potty seat.
Reach out to her if you think about it. Email, text, Facebook message, whatevs. I'm sure she'll need all the support she can get.