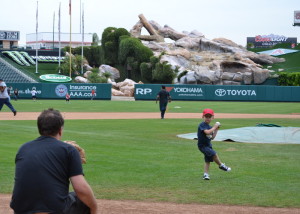 Wednesday is your last chance to reserve a ticket for this year's Jax Remembrance, which will be at Angel Stadium 6/24/14. Details can be found here.
If you want a ticket, let me or my wife know. To make sure I haven't missed anyone, below is the list we've gathered and the amount of tickets for each family/group/person. Please let us know if you see an error.
Thursday I'll work out the details with the Angels and let everyone know how they can pay for the tickets. Thank you all for the incredible turn out for this event. It means the world to us.
Reserved
Abners (3)
Acostas (3)
Alex W (2)
Amane P (5)
Andersons (4)
Bill/Katie K (2)
Blombergs (6)
Conibears (2)
Curtins (4)
DeKrakers (5)
Del Sestos (4)
Donna (1)
Heather K (1)
Jamie (3)
Judy (1)
Karis (3)
Katy A (1)
Kurt/Cherrol A (2)
Leah S (4)
Littons (4)
Lujan and Co. (7)
Meghan T (1)
Nazzie (2)
Nikki C (1)
Papa (1)
Steve G (1)
Thompsons (5)
Tommy (2)
Val M (1)
Zellners (5)