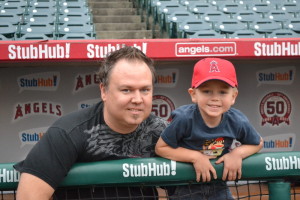 Yesterday, towards the end of work, I came across a post at FanGraphs, the mecca of baseball statistics web site that ultimately led to the birth of TechGraphs, my part-time employer. Written by Managing Editor Dave Cameron, the post asks invites guidance for a first-time father on how to introduce his son to the beautiful game of baseball.
I read it, and just about moved on, when I got an itch. An itch to share my story with my first son. It ended with my face puffy (more so than usual, jerks) and trails of dried tears. Here's what I wrote.
I raised a naturally left-handed tow-head with bright blue eyes and an even brighter smile. And by naturally left-handed, I mean I didn't force him to be a lefty, like a lot of other parents in Southern California seem to do. He hit, threw, kicked and wrote with his left hand.

At about 18-months-old we got him a plastic tee, ball and bat – one of those Fisher Price things. Just before turning 2 he moved up to a smaller ball and thinner bat. He'd swing from the living room and run and slide in the kitchen. My wife works nights as a NICU nurse. When she worked, our nights were spent playing baseball inside.

He had a sweet, natural swing. Hitting always came easy for him. Before he turned 3 I pitched to him over hand, so he'd get used to the motion. I was going to make him in to a big leaguer, whether he liked it or not. Fortunately, he liked it. Up until he died. He drowned at 4 1/2-years-old at a neighbor's pool party. Just a couple of weeks after finishing his first tee-ball season on the Brewers.

I grew up an Angels fan. I lived in Orange County and the friends I wanted to be friends with at my new school liked the Angels. It helped that it was Wally Joyner's rookie season and the Angels were good. Really good. My boy was growing up an Angels fan. Torii Hunter was his favorite player. He got to see him one last time, four days before he died, when we celebrated his great grandfather's Father's Day at Angel Stadium. After the game he peed in the parking lot. As a true baseball fan should experience.

It wasn't the same watching baseball after he died. I didn't have my padawan next to me to explain bunt defense to.

He was really good. His favorite position was third base, despite playing with the wrong hand. I'm staring at a note his coach wrote him following the season:

Very solid baseball player with a great looking swing. Always very focused when in the batter's box and ready to go.

At 4, he was one of the younger boys on the team. But he didn't play like it. One game, playing the "pitcher" position in tee-ball, a kid lined one back up the middle in to his gut. It looked like it hurt. A lot. He picked the ball up, threw it to first, and then held his abdomen. Coaches went out to check but I stood on the side trying not to make a big deal out of it. He didn't cry. Though I knew he wanted to. I had seen that face many times. It always ended with tears. But not out on that field. Not in front of all those people.

About the last 5-7 games of the season the league went to coach pitch, where a coach pitches softly to the boys. They get three swings, and if they don't hit, they move back to the tee. Jax never swung and missed once. He always at least fouled a ball off. After my Dad encouraged him to find his inner Incredible Hulk (he was a huge Marvel fan), the balls started jumping off the bat.

It was a great, great season. That one season of his.

Dave, I just wanted to share my own experience with Jax, my son. Baseball was so special to us as a father and a son. Don't push it on him, but educate he is willing to be open to. Get him swinging, throwing and catching as early as you can. Make it fun for him. And whatever happens, just know that your time with him is precious. Even when he's driving you nuts.

Just love the hell out of him.
That's all we can really do, right?