Work is kicking my butt again this week, so a condensed version of How Was Your Weekend.
Friday
The twins and I delivered some Alberto's to my brother-in-law and nephew, Liam, as my sister and niece, Claire, were out. We watched the Royals take a 2-1 lead over the Giants in the World Series. And I ate these colon-clogging carne asada fries.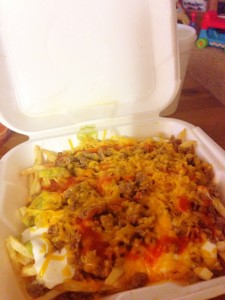 Saturday
We considered a night at the Legoland Hotel, but didn't want to sell our minivan to afford it, so instead, we spent the day in Carlsbad at the theme park. Splash Battle, which Gray would've LOVED, was closed for seasonal maintenance. And there were three to four other rides which required the kid to be at least 4-years-old.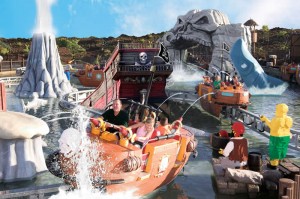 With the price of our ticket we had access to Legoland's Halloween event, Brick-or-Treat. The kids loved it. But it could've been better. My two biggest issues:
1. Half of the park was closed off. Instead, all of us were jammed in to the east part of the park, with 20-25 minute lines just to go trick-or-treating. If they opened up the park and had more stations, it'd give much-needed relief of congestion in the paths and lines, and offer a much more pleasant experience for the customer. As it is now, I don't want to take my kids back.
Which stinks, because I think the potential for a great event is there.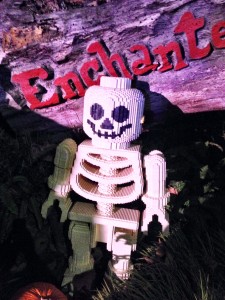 2. They didn't have Halloween Legos in their stores for sale. I would have purchased pretty much any Halloween Lego I could find, but they weren't selling any. Why not use this event to sell the seasonal, hard-to-find Halloween sets or pieces in the park, driving sales in the stores in addition to ticket sales for the Lego collectors.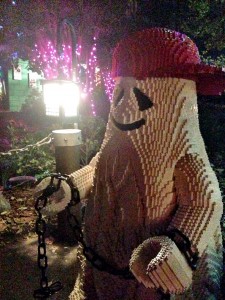 They did have a dance floor, and Ellie took full advantage. And you can see her and Gray have a little power struggle.
We went back to Saddleback Church for the first time in a while. Rick Warren, the pastor, started a series on awesome relationships, entitled, obviously, "Awesome". If you're married and struggling at all with your relationship, this could offer some hope. Even if you're not struggling, I think it's worth checking out. At the very least, watch the last 40 minutes, where Rick and his wife, Kay, discuss the seasons of marriage and their very different views and personalities. It's highly relatable, genuine and refreshing.
That night I was at a bar watching the World Series when I received an alert on my phone that baseball prospect Oscar Taveras died in a car accident. His girlfriend also died. My stomach sank. My heart stopped for a few seconds and I forgot to breath. I knew him as a highly touted prospect with the St. Louis Cardinals who hit a big pinch-hit home run in the playoffs and who was going to be considered for a starting outfield spot in the majors next season. Instead, the families of this 22-year-old man and is girlfriend are preparing funeral arrangements in the Dominican Republic. Hold your loved ones a little longer today, people.