Friday
I went to Game 2 of the American League Division Series against the Kansas City Royals. The one where the Angels lost in extra innings. When a left-handed Royals player slugged a game-winning home run. Um, the second one! Not the 3-2 game (which the same thing happened) but the 4-1 loss.
My friend Sam and I soaked up the parking lot scene under the Big A and they atmosphere and game was great. Until the end.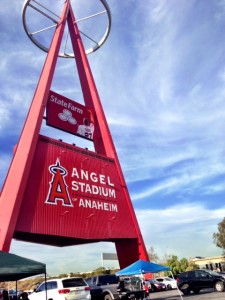 There's not a lot I have to say on the Angels getting swept. It's a huge disappointment and it's kinda embarrassing. Just remember this: anything can and will happen in the MLB playoffs. Nothing can be taken for granted. Remember the Los Angeles Dodgers 1988 World Series run? They shouldn't have beaten the New York Mets and Oakland A's, both far superior teams. But they did, in consecutive series. Anything can and will happen. This doesn't mean the Angels are a bad team, or that their players choked. Simply, the Royals had better luck in those first two games, the Angels' bats froze at the worst time of the season and the team that played better in three games (SMALL SAMPLE SIZE!) deserved to advance.
Kudos to Kansas City. I'll be rooting for you in round two.
After the game Sam and I soaked up our sorrows with suds at a dive bar in Orange. On the way home I grabbed a box of shame to munch on at home, because I was still hurting at 1 a.m.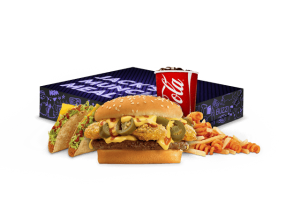 Beware, as it's even more shameful the next day.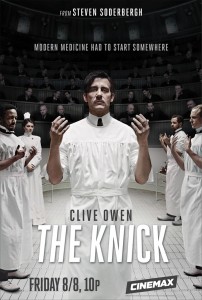 As I temporarily filled my aching heart with fatty oils and indigestion, I watched Cinemax's series The Knick. It's my favorite show on television. I can't get enough of Dr. John Thackery's ego, his genius or his opium den. I sure as hell hope he can find some more cocaine soon.
If Rotten Tomatoes is your thing, then you should be watching this.

Saturday
The CHOC Walk is on Sunday already! Holy crap that came quickly. We are short of our raised funds from 2012 and 2013 for team Iron Jax and can use all the support we can get to approach those figures. If you can walk with us, great! If you can't and would like to make a donation, please do so! One dollar, five bucks or $33,000, it's all good! You can view our team page and sign up/make donations at:
http://choc.convio.net/site/TR/CHOCWalk/General?team_id=2739&pg=team&fr_id=1080
My wife worked, so the twins and I drove out to the CHOC Foundation headquarters to take care of some Iron Jax business. Afterwards, we watched Peter Pan, which Gray borrower from my parents so that I could watch it, not him. I told him I hadn't seen the movie since I was a kid, and he made it a point for me to watch it. Afterwards, we had to sword fight. Which, for Gray and I, is always a friendly, mellow joust.
And then Ellie got involved. She'd prefer to just shred every one to bits.
Sunday
Sam and I hit up another dive bar, this time in Tustin, to catch the start of the Angels' final game of the season. After actually winning for half an inning following Mike Trout's home run (and only hit of the series), we watched the Angels poop themselves and left for earlier plans.
Those plans being Knott's Scary Farm! I haven't been to Scary Farm in 11 years, so I was excited. I don't really have anything to add if you've been there ever. But here are a few random thoughts, followed by my cheesy pictures, which, if you follow me on Instagram (SethTearz), you could have viewed in real time as I snapped them.
Elvira looks amazing. She's 63-years-old and looks like she did in 1987. Her Big Top show was entertaining enough. I just wish it had more of her and less of the dance team from Sonora High School.
Go on a Sunday night. We barely waited for any maze or ride. It was fantastic.
The Log Ride is just the regular log ride – not scarified. It's been spruced up, and is far more interesting than it used to be, but holy crap that was the best platform for Scary Farm. So if you decide to ride, just know this.
Take a Valium before riding the Silver Bullet. I wish I did.