Once Gray's story of his girlfriend, Hayley, began to flourish, Ellie felt left out. Not to be excluded, she told us about her boyfriend. He loves to dance. I think that's all she really likes in him. And for Ellie, that's all she really needs.
Having seen him, I can tell you he has flowing, brown hair. He has a solid group of friends, a good job and enjoys steak.
Ellie studied his dance moves and now executes them well for a 3-year-old. My parents had him over at their house one night a few months ago, to Ellie's surprise. When she saw him, she blushed. A smile cemented her face. Here's a photo of her beau.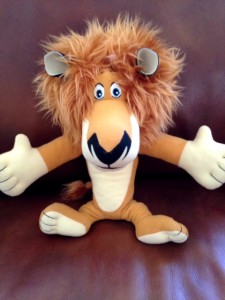 Yes, my daughter's boyfriend is Alex the lion from Madagascar.
I grilled Ellie, trying to find out why she likes him. Is he cute? She shook her head in disgust. Three questions later, with the attitude of a teenager, she told me she didn't want to talk about it.
Her favorite flick is Madagascar: Escape 2 Africa. She asks to watch "Madagascard" as she pronounces it, with a "D" at the end, just about every day. She replies with an "Awwwwwww" that tails towards a higher pitch when I tell her no. In the movie, Alex comes to find his parents. They call him Alekay. It didn't take long for Ellie to start calling her king of the jungle by the same name.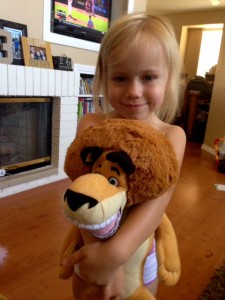 Ellie's preschool teacher talked to me about Ellie's beast-of-a-man yesterday when I dropped the kids off at school.
"She is really into him," she said with a sprinkle of surprise. Because, after all, it is a cartoon character.
But she is. Really into him.
The teacher lets her students to take home a stuffed animal/friend. The line leader, apparently designated via round robin, gets to pick their friend first. When Jax died, the preschool gave us Trixie, a maroon Triceratops Jax loved. This was his go-to selection from the class room. On Jax's birthday my mother-in-law presented some stuffed animals as a way to give back to his teacher, who also happens to teach Gray and Ellie, to use in her class. One of which was Alex. The teacher, however, named it Jax. Coincidentally, Alex is Ellie's favorite thing in the world. And she brings Alex (Jax in the class room) home at least once a week.
Last week she brought home a black dog with brown accents named Bailey instead. Someone else took Alex before she could. It was the girl who has a crush on Grayson. When I asked what happened, Gray said it wasn't a nice thing to take Alex when Ellie wants him. Ellie genuinely seemed pissed. Not hurt or crying, but mad. Like, if this girl ever finds her own lovable furry friend, Ellie's going to rip its head off and use it to paint a picture of Alex.
The next day at preschool, the teacher named Ellie the line leader. Alex was back in her grasp.
I'm kinda hoping this Alex the boyfriend thing lasts through high school. Then I won't have to buy a shotgun.