Every night before bed Gray and Ellie sit on the couch with us, drink their milk and watch a little TV. Usually it's America's Funniest Home Videos. But when Dancing With the Stars is in season, it's that. Gray has a serious man crush on host Tom Bergeron.
Last night, while Gray sat next to me on the couch, we witnessed Ellie dancing along to the show. Note the slight booty wiggle towards the middle.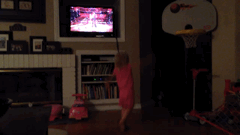 (T)GIF is a regular Friday feature at Smiling Through Tearz. Know of an animated gif that makes you tinkle with laughter, cry or cringe that you think should be featured at STT? Let me know at seth@smilingthroughtearz.com.