I woke up Saturday morning at 3:30. It wasn't on purpose. I had to pee and grab a drink of water. When I lied back down, I wasn't sleepy. Typically, this isn't a problem for me. But this wasn't a typical morning. It's a day I was dreading. And, mostly because of that, I never did get back to sleep outside of 20 minutes before the twins woke me up a little after 8.
Jax died on a hot, sun-filled Sunday. Yesterday was the first June 24 that was a Sunday since he died six years ago. It was definitely sunny, and mostly hot. And I was dreading all of it. I didn't want to pretend to be okay, and I really didn't want to have to talk to anybody.
I managed to wear enough of a smiley face once we arrived at Angel Stadium, and it helped to watch the kids play at the Family Sunday zone before the game as friends and family snuck some shade under a tree and listened to mediocre kid-bop cover songs of some decent artists.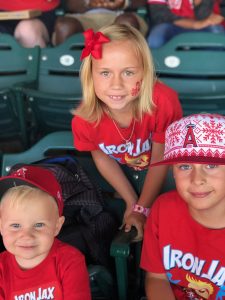 Soon it became a place of warmth (not just because it was hot), positivity and love. It wasn't anything that was said or done. It was just loved ones, being with us in support, all together in whatever each of us were feeling – and not doing it alone.
I'm continually overwhelmed by the amount of love and support everyone has, continues to, and will give us as we continue to mourn the loss of Jax. I get lost in my own junk, and it clouds my vision of what's real and what's imporant, and it's a day like yesterday that helps me to see and feel what is real, and what matters.
I love you all. My family loves you. And thank you.