Signs signs
Everywhere there's signs…
— Five Man Electrical Band, 1971
This describes my wife's last week. As Jaxson's birthday approached, she's been hit with sign after sign.
Last week, on their way home from preschool, Phoenix grilled my wife with questions about Jax. How did he die? Where is his body? My wife was having a particularly hard week emotionally. She gave him simple answers. Our family talks about and includes Jax constantly and both little boys talk like they know him. But the topic of his death just doesn't come up, so for Phoenix to ask a week before his birthday was curious.
A day or two later, a co-worker of my wife approached her at the end of her shift at the hospital. The co-worker told my wife that she dreamt of her and Jax. Now, understand that this coworker doesn't know a lot about Jax nor our home. She explained her dream to my wife. My wife was sitting in a barstool and Jax was standing next to her, trying to get her attention. But my wife was distracted by our twins asking about hand gel. The co-worker said that she sensed Jax trying to sit in my wife's lap. But he's no longer 4-years-old. The co-worker described Jax as 12 or 13. Again, the co-worker doesn't know that Jax was 12 at the time of the dream or that we have bar stools at a counter in our home. She explained to my wife that Jax wants her to know that he is constantly around. And to us, he always seems give her signs when she needs to see them the most.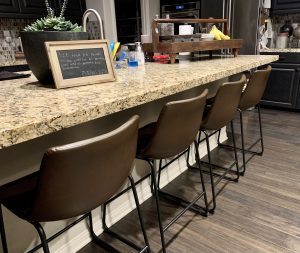 Over the weekend my wife was shopping at a flooring store. She said that in her time there, two different families were shouting "Jax" or "Jackson" to each of their boys. My wife said that the boys were 4 or 5-years-old.
Yesterday, things ramped up. My wife saw a firetruck, Jax's signature sign to her. She took all the kids to In N Out to grab lunch while I worked. At the window, she was given five kids stickers, without the In N Out employee asking if she wanted any. We have four children alive, with Jax being the fifth. Last I noticed one of our children placed the stickers next to Moo and PD, his favorite stuffed animals.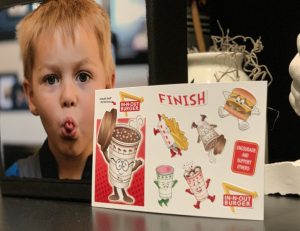 Finally, my wife was in line at the grocery store to pick up cupcakes to take to Phoenix's preschool. Phoenix has the same teacher Jax had and every year we bring cupcakes to her class so they can celebrate Jax's birthday. In front of my wife was a person with two blue balloons that read "Birthday Boy." Right behind her a woman held a red and black balloon, the same color balloons that my mother-in-law buys for us to release on his birthday.
Our birthday plans for Jax are slightly different this year. I'll drop Phoenix off at preschool with cupcakes, plates and napkins and his class will sing to Jax. After we pick him up we'll head out to Los Angeles. While the Natural History Museum of LA is closed, we'll walk around the property, likely in the rain, yearning for a sense of normalcy to honor our missed boy. Later, we'll pick up some take out from Ruby's Diner or Red Lobster – two of his favorite restaurants – and sing Happy Birthday to him.
Today, keep an eye out for fire trucks, black and red balloons or anything that reminds you of Jax. Everywhere there's signs.
Happy Birthday, Jax. My love for you knows no limits. My heart aches beyond comprehension. And my soul longs to be with you again.