This was intended for bugsandcranks.com, but apparently the Eastern European hackers really like the hits for their pharmacy website, because it's been hijacked. Rather than waste my efforts, I'm going to post it here until Bugs is back up and running. Matt Shoemaker is a pitcher for the Angels, by the way.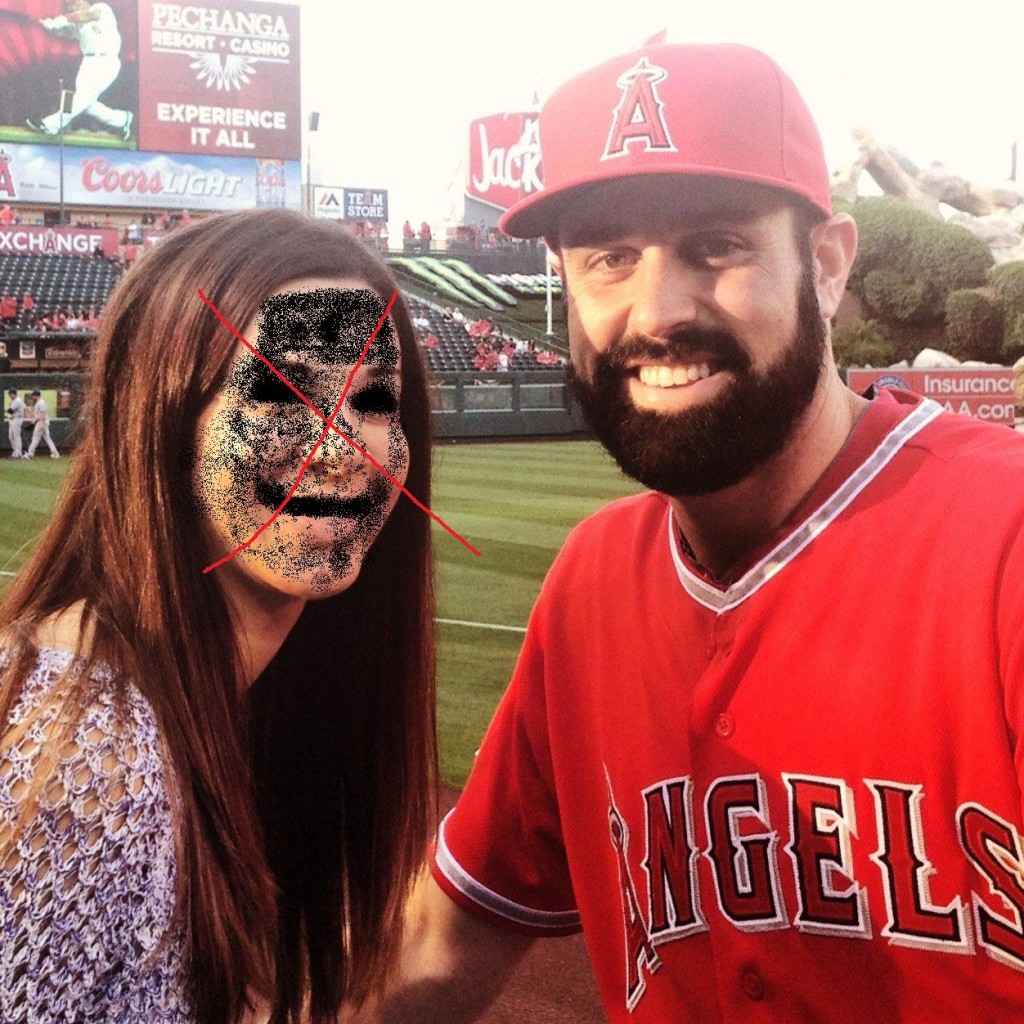 My Handsome Matthew David Shoemaker,
You never stop surprising me. After you signed with the Los Angeles Angels in 2008, our paths never crossed. How could they? You, undrafted out of Eastern Michigan, and me, only paying attention to real baseball prospects. But this year. Oh, Matty, this year. The stars brought us together.
Somehow you broke Spring Training and made the Angels' 25-man roster. You pitched serviceably out of the bullpen, fulfilling the role of a versatile long man. Honestly, I didn't expect you to last. In May, however, you returned. In my birthday month, no less! I just love how you knew that. Anyway, you returned, and you returned for good. Your boss, Mike Scioscia, handed you some starts once Hector Santiago shit the bed and lost his spot in the rotation.
Rotoworld treated you like another one of their hussies.

But you showed them. And me, darling. You caught my interest. But I kept my distance. I didn't think it could last. In June I swooned as you struck out a career high 10 against the Indians. You aroused my faith. So much that the stinker you tossed against the Kansas City Royals on June 27 (4 IP, 11 H, 8 ER) did little to dissuade me.
I never told you this, my man stallion, but what I saw in you, that thing that gave me hope, was your strikeouts. We all know you're not a bombshell. Radar guns aren't shorting out from excitement when you step on the mound. You weren't the kind of guy that was ever going to make the cover of Baseball America. But you figured out how to succeed with the tools that God gave you.
How does one, armed with a measily 90-mph fastball, manage to strike out more than a batter per inning pitched? It's because you know how to use your tools.
Your splitter makes me tremble inside. But it's your ability to hit the right spots with five pitches (splitter, four-seam fastball, two-seamer, slider and knuckle curve) that puts these batters to bed to the tune of 8.86 whiffs per nine innings.
Everything changed for me on August 9. That's the date I fell in love. The Man Crush was born. It was at home, in Anaheim, and you guys were hosting the Boston Redsox. I was laying in bed. Cemented in a 4-4 tie in the 17th inning, you entered the game in relief. Just three days before you pitched well in a 2-1 loss to the Dodgers (6 IP, 6 H, 2 R, 5 K). You twirled three perfect innings with four strikeouts until Albert Pujols's walk-off home run ended the marathon and sent your aching arm to chill in a bucket of ice until the clubs in Downtown Santa Ana turned the lights on and made the hood rats go home.
I bragged about you to my friends. I wish I could've massaged that right shoulder of yours.
Whatever ends up happening tonight…Matt Shoemaker is the tits. #angels #grit @MattShoemaker33

— Seth Tearz (@SethTearz) August 10, 2014
My honey, that is when you stole my heart. To pitch that long in relief – that well – on short rest was heroic. Gutsy. And thrilling. But you weren't done.
When super model Garrett Richards tore up his August 20, many considered the Angels' World Series dreams in jeopardy. Even after an 8-3 victory in that game, the clubhouse was silent. No one celebrated the victory. Everyone was crushed about losing Richards.
Baseball media based the rotation. They wondered whether you and your buddies could keep the Angels in a pennant race without the bombshell. That very next night you showed them. At Fenway Park you entered the seventh with a no-hitter until the "butthole" Will Middlebrooks ripped a double down the left field line. You finished the 2-0 victory with 7.2 IP, that one hit, just one walk and nine strike outs.
You lifted the Angels when they needed it the most, my precious. You ooze humility, grace and class. And you'll need to do it again tonight against the Miami Marlins. That trashy Wade LeBlanc, filling in for Richards last night, was bombed in a 7-1 drubbing and you're tied again with the Oakland A's for the Western Division lead. We need you to keep us in the this game. To pitch well. To win. And I know you will.
My beloved, I'll be there tonight to root you on. Look for me in the suites behind home plate. Watch for my fluttering baby blues. With butterfiles in my stomach and my heart at your mercy.
Eternally Yours,
Seth Tearz