It's been a couple of weeks since I last posted. Here's what's going on:
I got a job. One day before our end date in my office, I shot off an email to a former client of mine. Later that day I had an interview scheduled for four days later. At the conclusion of the interview I was offered the job. I started work the next week. While the major stress of unemployment was avoided, it's cut in to other parts of my life, which includes this blog. Due to the commute, I'm spending an extra hour and 45 minutes away from home, which results in babysitting issues when my wife works, less time with the family and no desire to sit in front of a computer for an hour. Also, I did quite a bit of writing while at my previous job. That's not happening anymore.
Two weeks ago the hope that life was turning around, things were going our (the family's) way and dark times were behind us were crushed in an instant. I may write about it in the future, I may not. What's important for you to know is it devoured my dreams, aspirations and energy. Fuck everything, is what I thought. Nothing matters. Especially not this blog.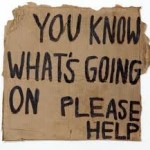 So I went silent. It hardly seemed important to share my weekend, a stupid animated gif or whatever was kicking around in my head and heart.
On my Facebook page I shared a bit of what was going on when someone asked where my posts have been. Which led to encouragement from a couple of people, messages and texts of support and some songs/videos from a reader. I can't be fixed. But I appreciate everyone trying.
(skip to the two-minute mark for the beginning of the song, if you wish)
I also received Peter Gabriel and Kate Bush's "Don't Give Up." The video is cheesy-ass but the lyrics are strong and appropriate, especially Bush's haunting chorus:
Don't give up 'cos you have friends
Don't give up, you're not beaten yet
Don't give up, I know you can make it good
Don't give up, you still have us

Don't give up, we don't need much of anything
Don't give up 'cause somewhere there's a place where we belong
Rest your head, you worry too much
It's going to be alright when times get rough
You can fall back on us, don't give up, please don't give up

Don't give up 'cause you have friends
Don't give up, you're not the only one
Don't give up, no reason to be ashamed
Don't give up, you still have us
Don't give up now, we're proud of who you are
Don't give up, you know its never been easy
Don't give up 'cause I believe there's a place
There's a place where we belong.
You can watch the video here. WARNING – There's a whole lotta hugging going on. 
I have every intention of returning to a normal posting schedule. I feel beaten, but I'm not going to give up. This is a place where we all belong. To be real. To share. To cry, to laugh, encourage and console.
Thank you for reading. Yesterday, today and tomorrow.