To know Orange County artist Sam Carter is to know funny. It's in his DNA. His father, Samuel Carter III, boasts a cold, calculating wit. If there is a line he won't cross, it's buried in the sand. Think the late George Carlin without the raspy voice. Sam inherited the same levity. Toss in the influences of Caddy Shack, Saturday Night Live and The Jerky Boys along with years of listening to movies and television in the background while drawing as a single child growing up in Orange and a pop culture satirical monster is born.
Carter, Director of the Design Studio at USC Auxiliary Services and formerly an art specialist at Disney's Art Department, started drawing about age 4 or 5. He drew Garfield in elementary school and became frustrated when other kids couldn't match his skill. When he was 9 created elaborate maps of imaginary amusement parks filled with minute detail.
In high school he started a line of T-shirts entitled Dismal with the iconic Disney "D". One shirt featured a creepy one-eyed, one-eared Mickey Mouse while another set many Disney characters in a pool hall. While not yet defined at the time, Carter was creating pop surrealism, an underground art movement mash-up of Surrealism and popular culture created simply to entertain.The phrase originated at The Aldrich Contemporary Art Museum in 1998 for an exhibit of the same name (and book in 1999 which covered the exhibit) and is sometimes referred to as lowbrow art. It's often filled with humor and sometimes a sarcastic comment on society.
Pop Surrealism at its Lowest Brow
Carter's first solo art show "DUOS" exemplifies the pop culture influences from his youth. Hosted at Santa Ana's  F+ Gallery, his collection depicts "pop culture's most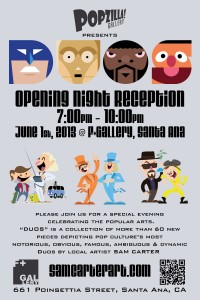 notorious, obvious, famous, ambiguous and dynamic duos." The Blues Brothers Jake and Elwood, Jules and Vincent from Pulp Fiction and Sesame Street's Bert and Ernie are some of the 69 (of course) twosomes on exhibit starting Saturday, June 1. The themed show will run through July 10.
"I liked the idea of DUOS, it's almost endless," Carter said. "So picking my favorites would be fun. That's what this type of art is all about. Nothing too serious or heavy in my stuff."
Carter, who uses the tagline "Pop Surrealism at its Lowest Brow" on his website, began working on DUOS in January. He sketches a piece with a Wacom tablet and then creates shapes on top of it with Adobe Illustrator. He said this project forced him to learn how to simplify his designs.
"I usually work my art to death and not realize I should have walked away a long time ago," he said. "This was a good learning process as an artist to only give myself a limited amount of time for each person in the duo."
"My fucking wrist hurts from it," he added.
Amy Kaplan, manager at F+ Gallery, first met Carter, a Cal State Fullerton art grad, at a bi-monthly life drawing group at Dr. Sketchy's, an anti-art school in Anaheim. Kaplain said the gallery normally features fine art, but her and owner Micah Kersh have always wanted to mix in pop art, and she thought Carter was the perfect fit.
"I've always been a fan of his work," Kaplan said, "and have wanted to feature him in one way or the other."
A huge Back to the Future fan, Carter said his favorite pieces are Doc and Marty or movie maker Kevin Smith's characters Jay and Silent Bob.
"It's fun to have an art show where you can have someone like Jay in a piece giving the  finger," Carter said. "A simple gesture is so true to his character."  Each duo can be purchased as limited editions on opening night.
Attack of Pop Art Rages On
Carter said he sees himself expanding the DUOS collection in the future. He hopes to hit 100 total tandems and feature them on his website at samcarterart.com.
In August, Carter and a group of artists under the moniker Popzilla will put on a themed art show called Mega Mouse, which takes a look at what would happen if Disney continues to buy up creative properties, like they have with Star Wars and Marvel. Popzilla's first show, Rat Trap, was a celebrity roast of Disneyland and earlier this year Rothick Art Haus hosted SteamPOP, which covered all things pop culture seen through "steam punk" goggles. Carter said the group is always looking for "awesome, nerdy new artists" to join his crew.
For More Information: