Friday
On Thursday our Whirlpool washing machine, just eight years old, decided to piss all over our laundry room floor. It leaked from the bottom of it. I don't know if it's a hose, or a pump, or giggled its way through Gray Has a Girlfriend. And we won't know until Friday when a service professional will finally check it out.
So I took some laundry over to my parents with the twins.
My dad's teaching the twins to count cards. Or at least practice their number recognition. But they totally know the difference between a spade and a club.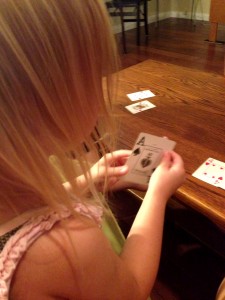 In this game, the twins decided that the joker was the Holy Grail. They beg my dad, the dealer, to dish out the card and flip out with excitement when they get it.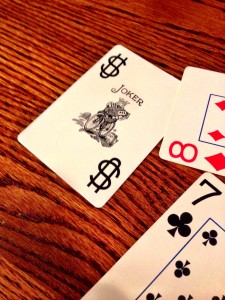 I imagine they'll both be missing their thumbs before they're 30. Thanks for the life lessons, dad. 

Saturday

Gray has a huge imagination. Just look at his girlfriend Hayley. He's either scripted this detailed back story of a character in his head, or he sees dead people. Some of you may think the latter (Hi, Janell).
Oh shit, check this out. Total swerve here, but follow along. On Wednesday I was digging for info on Hayley when Gray told me she died and went to heaven. I asked when she died, but he couldn't answer. He did tell me he's going to get a rope and climb up to heaven, though. He also said he wasn't sad. However, Jax and Hayley don't know each other. Weird shit, eh?
Anyway, Gray's imagination. It's big. I often catch him playing out some crazy scene with his food. He talks quietly and it also seems to involve intense action. I caught him on Saturday morning.
The night before, Kristina and her friends from work got all artsy at Painting with a Twist. The next morning the twins saw her canvas (you can find it on her Facebook page) and wanted to paint themselves. Here are some photos along with Gray's spooky-ass masterpiece. Ellie pretty much mixed a bunch of colors and filled the entire space, so I didn't snap a photo of it.
Kristina and her mom made some treats for an ongoing sale of goods at her mom's work to raise money for Iron Jax for the 2014 CHOC Walk. So I took the kids, along with my dad to their last Angel game of the season. I only have two season ticket seats, so I bought four from the Angel Ticket Exchange.
Feeling cheap, we sat in the first row of the upper deck. If you haven't held a 35-pound toddler in one hand and a tall boy Modelo can in another while trekking down those steep steps to your seats in the very front row, just imagine jumping off the edge of the Grand Canyon. Because that's pretty much what I imagine it to be.
Ellie, blinged out to the bling with her Angel blinging bracelet, called Mike Trout's home run before he hit it.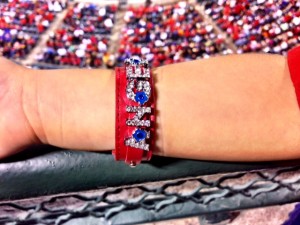 And the Angels won 8-5. Gray shook off some social anxiety jitters (large group of people making a lot of noise) and we all had a super fun night.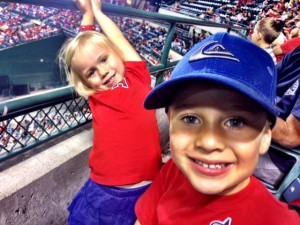 A kid behind us, maybe about 9-years-old, replaced Angels with Dodgers in the "Let's go Angels" chant towards the end of the game. Gray wasn't having any of that crap. He let it go the first time, but when round two started, Gray turned around and said "ANGELS" firmly and directly to the kid. His dad laughed that this 3-year-old was sticking up for his team. But I think he was just correcting the kid. He's got that part of Jax in him.
I updated my iPhone with iOS8, which now has a time-lapse feature for the stock Camera app. So I tried it out during the fireworks show. Obviously, find a flat surface when you decide to use it. I'm sorry if you puked all over your work computer watching this.
During the game, at 7:51, I got a text from Kristina to find out why there was traffic on the 15 freeway. Oh, it's just because the Hells Angels and Mongols turned Corona in to Charming five minutes from our house at the El Cerrito Road exit of the 15.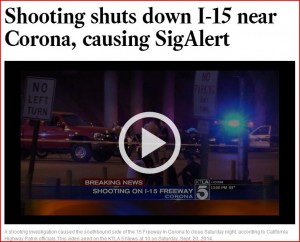 There's a rumor flying around town that earlier that day, a truck operated by a Hells Angels member ran over one Mongol on a bike, then backed over another. Where's Wayne Unser when ya need him?
Sunday
Sunday I took the twins over to my sister's house to visit their new cousin. I had the pleasure of holding her for about an hour while she slept on my cozy man boobs. Ellie, so anxious to hold baby Claire, backed off a bit once reality set in. She had no idea what to do with her hands.
How was your weekend?