I just wrote this about Albert Pujols over at Bugs & Cranks if you want to check it out later.
Friday
On my morning commute to work I juggle my radio listening between The Dan Patrick Show, The Travis Rodgers Show, ESPN's Colin Cowherd (if either of the other two are on a commercial break) and Kevin & Bean. I'll stoop to KIIS-FM or Amp Radio if all the others are airing commercials. Oh how I miss Sirius.
Earlier in the week Dan Patrick discussed The Cheshire Murders documentary he watched on HBO. For some reason, I subjected myself to the horror Patrick described. To cut to it, the film is very well done. But it's hard to watch. Very hard to watch. According to HBO's website, the film "explores the triple rape-arson-homicide that rocked the quiet town of Cheshire, CT." While it details the events of the horrific burglary of the Petit family in 2007, it also raises questions about the police's handling of the crisis and examines whether the men charged with the heinous crimes deserve the death penalty.
If you don't mind your soul getting a little dirty, watch it.
Saturday
Multiple times a day I check my blog's stats. How many visitors come to the site, which pages they're viewing, where they're from in the world, etc. I can even see what search terms were entered into Google that led a visitor to my site. Sometimes I come across some odd stuff, but Saturday I had the pleasure of hosting a visitor with the highlighted inquiry below: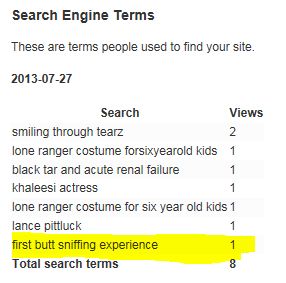 To the man or woman (I know, I know, 99 percent chance it's a man) who landed on my site from that search query, thank you for visiting, and I do hope your first "experience" was excellent.
At night we celebrated my dad's birthday at Woodranch restaurant at The Shops Dos Lagos in Corona. Through August 17 the upscale shopping center is hosting "Rockin' at Dos Lagos" in one of the parking lots. This night DSB, a Journey tribute band performed. The place was packed. The band sounded good and they reaffirmed Gray's wish to have his own band. But from what he and Ellie said, they're going to be fighting over who plays the drums. I think Gray finally conceded and said he'll play the guitar. But he doesn't want to sing.
As Gray rooted DSB on, I found Ellie doing this.
If you know my wife, you'll know Ellie's urge to clean is buried deep within her DNA. But I feel pretty uncomfortable with her need to clean the stick man's crotch repeatedly.
Sunday
My wife worked Friday and Saturday nights so I talked the kids into going to the park to play with their new soccer ball. I went to a park without a playground to avoid any distractions. Apparently I underestimated the power of a tree and pebbles, or anything that wasn't soccer related. Ellie dribbled and scored twice before taking off to join Gray who decided to run 300 yards away. Once I herded them back they pretended to "work" on a tree with rocks.
Ellie took full advantage of her lunch break.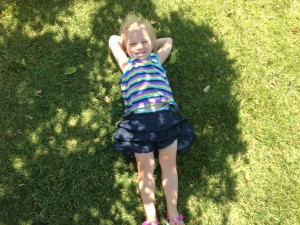 Earlier in the morning they were playing on my bed with the iPad. They jockeyed for viewing position and control over which apps to launch and that point, Ellie became pretty upset. But Gray held his position. There was some wrestling, but neither of them cried or complained much.
When we got back from the park I noticed this on Gray's right forearm.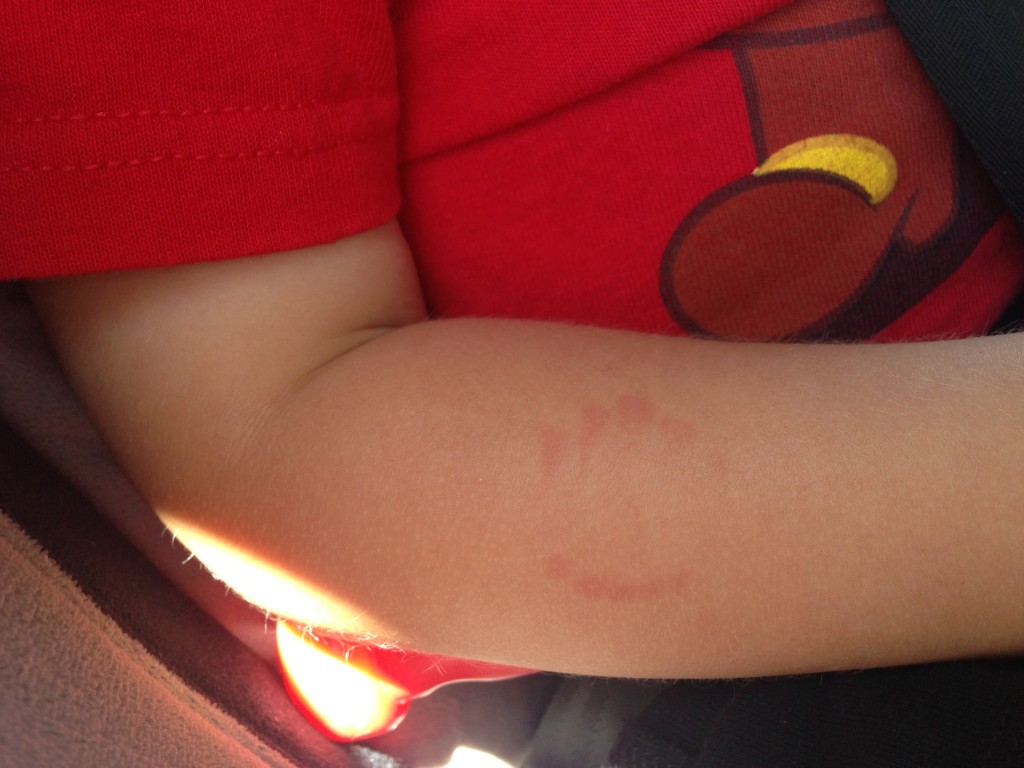 Bite marks. I asked Ellie if she bit him, which she copped to. I asked why and she said it was because of the iPad. I guess those five minutes of Sharknado I let them watch just before bed the night before was a bad idea.
Once my wife woke up she asked Gray where her iPod touch was. She likes to catch up on emails and Facebook to help wake her up. Gray ran to my room to get her device. After a couple of quiet minutes, I went to check on him.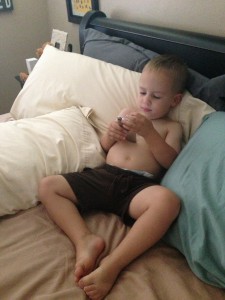 At night we dropped the kids off at my parents and went to dinner before catching The Way, Way Back, a film which premiered at the Sundance Film Festival and has a very familiar feel to Little Miss Sunshine. It doesn't help that it stars two of that movies actors, Steve Carrell and Toni Collette. While not as memorable as Sunshine, this one delivers a charming, funny, coming-of-age tale set in the summer on the east coast. If it doesn't want to make you quit your job and work at an outdated water park, then nothing will.
Here's a trailer. We both dug it.