Friday
In our final Friday night Angel game of the year, the Angels beat the Seattle Mariners 3-2 in 11 innings. We didn't stick around that long.
Speaking of Angels, I have plenty of games available in our season ticket pool. The seats are in section 240, Row A, seats 3 and 4. In simple terms, it's the first row of the outfield seats towards right-center. If Mike Trout is roaming center field, you can yell at him and stare at his butt all game. So ladies, get in on this! Here's a view from our seats on Opening Night.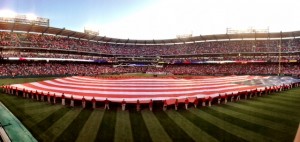 If interested, comment below, email me, send me a message on Facebook, send a raven – whatevs.
Saturday
We didn't do much of anything. Really. Um…I took a nap. And it was glorious. At night we went to dinner at Macaroni Grill, along with half of every 14-17-year-old dressed up for Homecoming or whatever crappy high school dance they planned on attending. My wife hated her pasta, I loved my chicken parmigiana and Ellie and Gray dug coloring on the paper table cloth.
After a trip to Home Depot shopping for a new kitchen faucet…
(My life feels like this clip from Old School. "I don't know if we'll have enough time."
…we hit up Yogurtland before heading home. I'm feeling Halloween-y so we tried to take the kids to one of those pop-up Halloween stores, but they'd just closed.
Sunday
Rick Warren began his Habits of Happiness series, which I so desperately need to hear. Today he talked about your relationships, and how you view others is a first step in creating habits that lead to happiness. There were four main points, and I don't do any of them. So I have lots to learn.
Gray started his period or something at lunch time, which bled (pun intended) into getting our haircuts, and then flipping out on me on our way home because I wouldn't let him hold my phone in his car seat (which I never do). Earlier, he balled his eyes out and made me carry him throughout the house (which he never does) after my wife scolded him for not listening. It's exhausting.
Due to my wife's work schedule, my parents are watching the kids over night. After I dropped them off I met up with a friend at O'Hara's in the Orange Circle for some beers, football and catching up. If I were ever to have my own Cheers, it'd be at O'Hara's. I friggin' love that place on Sundays. Prices are reasonable, bartenders are cool and the crowd is always pleasant. Again, this is Sundays. It seems to get pretty crazy Friday and Saturday nights.
 I must be gettin' old

I'm at the drive-thru
And I'm making my face
All fat fat fat fat fat
A Big Salty Tears
I first heard this song from Sublime, but they covered it from The Ziggens. And every time I go through Jack In The Box at night alone this song pops in my head.
So I did that, and then watched Dexter's series finale.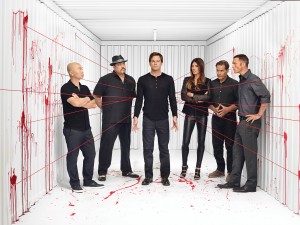 It was okay. Just like the rest of the final season. Fittingly, there are no warm fuzzy feelings at the end. And they didn't show enough of Dexter's nanny. I'll keep it to that. I know not everyone watched it last night, and I'm sure it's sitting on several DVRs. Feel free to reach out directly and we can nerd it up about the ending.
How was your weekend?