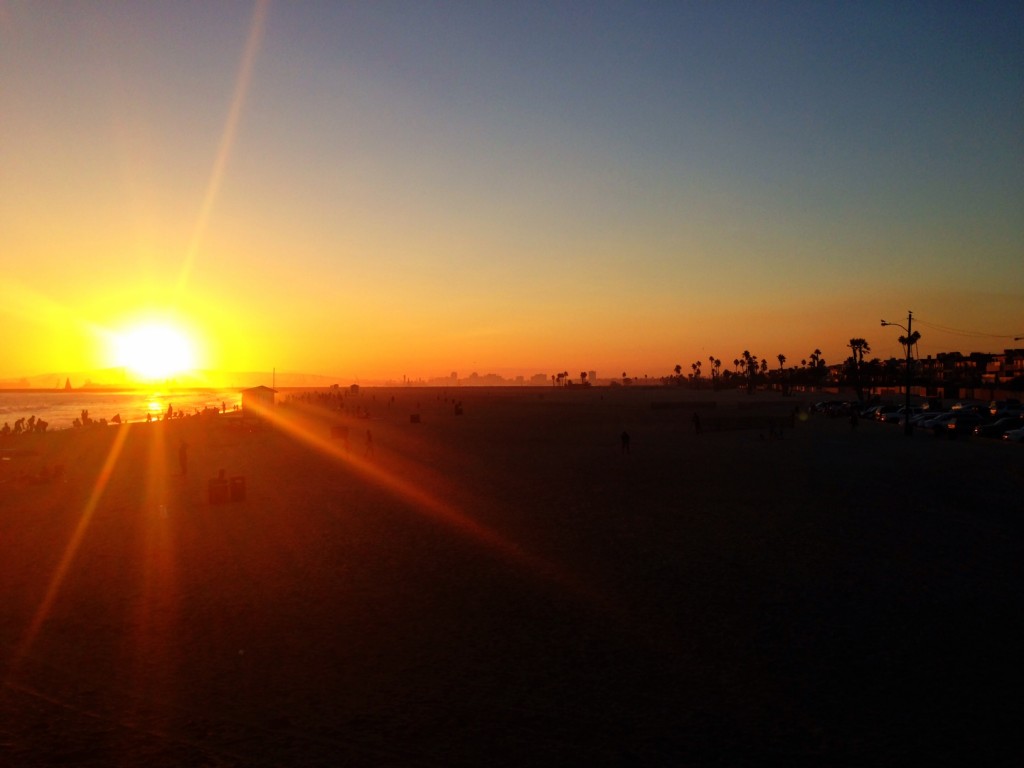 Friday
Ellie is a natural athlete. She has good hand-eye coordination, fantastic motor skills and excellent balance. She's pretty strong, too. Whereas Gray needs hard work and a passion to reach his goals, Ellie picks up new things naturally and gets it. The most obvious illustration of this is baseball.
Typically Ellie would rather watch Gray swing off the tee or play catch. She's indifferent to the whole thing. Meanwhile, it's Gray getting in the extra hacks as he roleplays as Mike Trout with the Angel game on in the background. His clunky swing has shown some improved results, but it's better designed to wield a sword.
So when Ellie grabbed the tee, set it up in the kitchen and said she was going to hit a home run like Mike Trout, I felt warm fuzzies all over. Gray cheered her on from the couch with a red foam finger and an Angels knit cap.
Between swings she'd read the score, which has become a hobby of hers over the past couple of weeks. Most of the time she's correct. She even knows the Angels' top three hitters, in order: Kole Calhoun, Mike Trout and Albert Pujols. Josh Hamilton's been hurt since forever, or else she'd probably know him, too.
Below is a clip of our night.
Saturday
To beat the heat while my wife slept off a hospital shift I took the kids to my parents' house for water play. Gray and Ellie bounced around from different inflatables filled with water while rocking out to the Frozen channel (it's all Disney songs) on iTunes Radio.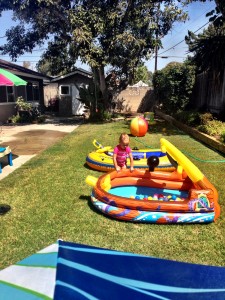 We just hung out, got wet and enjoyed a few hours in the sun. It was nice. Gray had a good time, I'd say.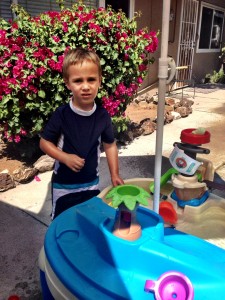 "This is a real fun party," Gray enthusiastically said. Four different times. Ellie agreed.
"This is the best party of the year!" she shouted. No idea why they thought it was a party, but they had a blast.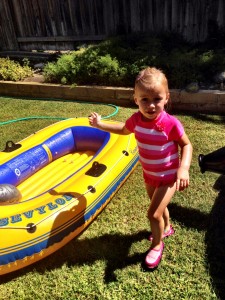 Our plan was to go to the beach all day. But the thought of crowds, sand and constant heat kept us at home. Instead, my dad and I took the kids to the beach for dinner.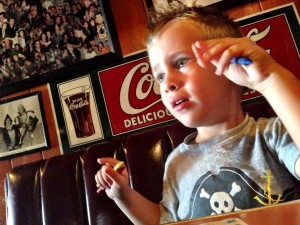 We grubbed at Harbor House Cafe in Sunset Beach. Our shakes melted within minutes of hitting the table and my burger, requested as medium, came back black. Once past the edges it wasn't as bad, but the taste of the meat itself completely lacked. It tastes way better at 1 a.m. after a night of drinking. Or breakfast. Get there before noon and you're likely to be okay.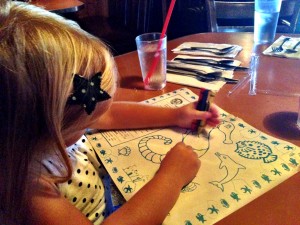 Afterwards we drove up to Seal Beach and walked on the pier. They got their feet in the sand a bit, we snapped some sunset photos headed home.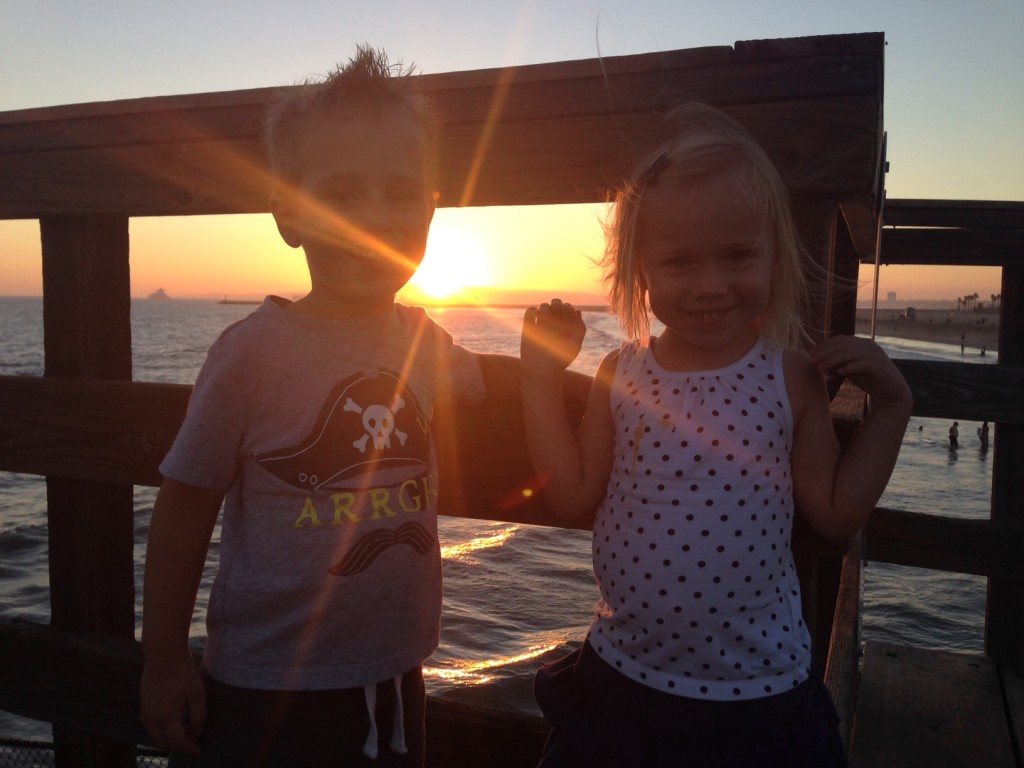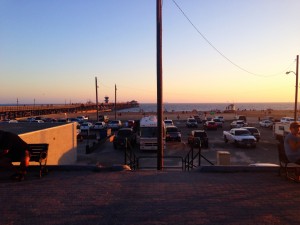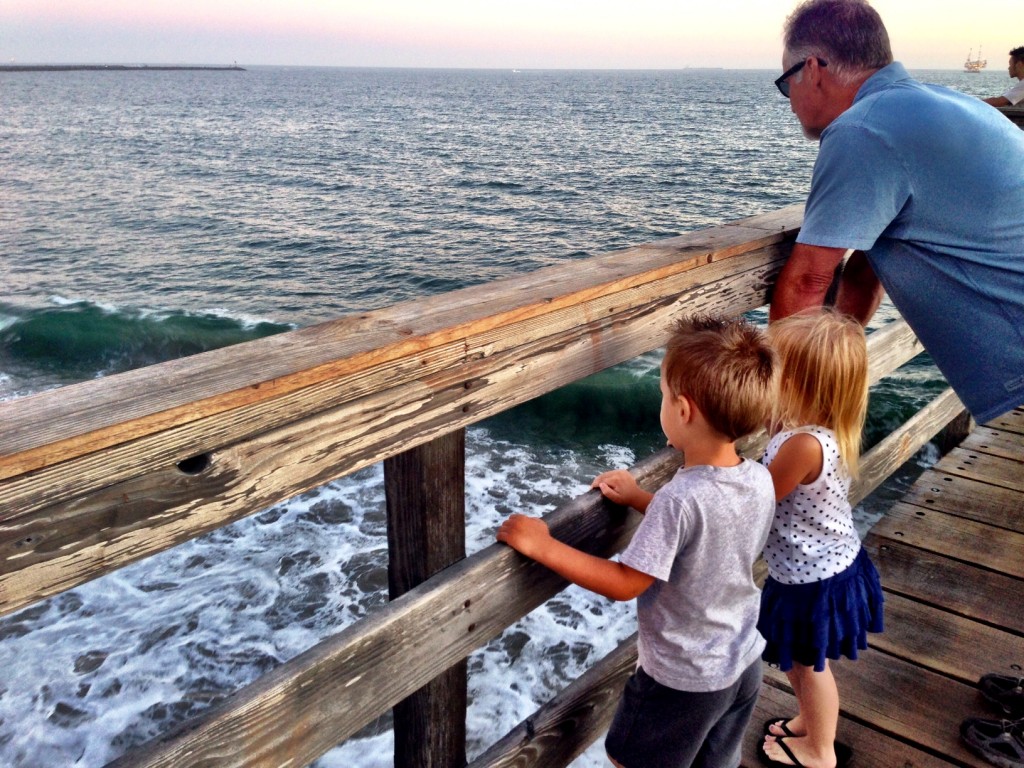 Sunday
From what I can only assume was the result of an exhausting Saturday, Ellie woke up with rage. She started off okay before losing her shit.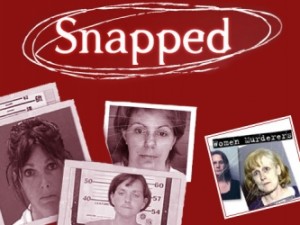 I was in the bathroom getting ready and Gray was laying in a toy doggy bed pretending to be a dog. He got up and Ellie swooped in. Eventually they shared until Gray knocked her on the head or something. It wasn't anything serious, but he wanted the doggy bed back. While he rest on his right side, head on the ground, Ellie got up on her knees, her Hello Kitty wrist wallet in hand, lifted it over her head and viciously brought it down to the bath mat just to the right of Gray's head. She missed.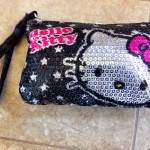 But she didn't miss the second time. She did the same thing, clocked him on the forehead and sent Gray, normally a pretty tough kid, running crazy. I put Ellie in time out and went to comfort Gray. Blood ran from his head. Oh shit she beat him good. Kristina patched him up while I tried to deal with Ellie. Inside the wrist wallet was a plastic hot dog, a key chain and a toy baby bottle. Whatever it was that got him got him good.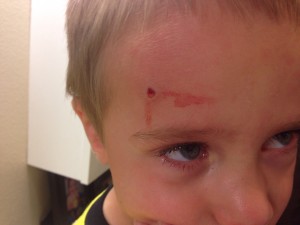 Girls are insane.
My sister manufactures bowling bowls designed as babies, and she delivered her second at 3:21 p.m. Claire Anna, my niece, weighed 10 pounds, 8 ounces and is 21 inches long. Her son, Liam, was about 9 1/2 pounds. I spent most of the day at the hospital waiting for chubs to visit the world while my wife made sure Ellie didn't boil Gray's Pluto stuffed animal for dinner.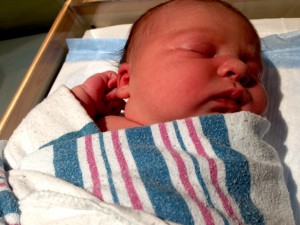 It's hard being at that hospital. I mean, I'm soooo happy for my sister and her husband and I'm excited to have a niece and a girl for Ellie to grow up with. Thrilled that mom and baby are completely healthy. But Jax died next door at CHOC. and we should have had one baby in April (miscarriage in 2013) and should be due for a December delivery (miscarriage in April). But as you recall, I'm pretty good at pushing my shit down, so I did that, focused on happy times for my family and waited for my own melancholy and infinite sadness for my ride home. And hoped our chance would come again.