Halloween
First, an anecdote. My wife noticed that the light in Jax's room was on. She found out that earlier in the day, Gray opened the door (it's generally kept closed and they aren't allowed in there without asking us first) and left the light on after checking the room out. When she asked why he went in there, especially on this day (Halloween was a huge holiday for Jax) he said he just felt like going in. We've always thought Gray has a particularly strong spirit and connection, and I think he was drawn in there. Just a reminder that Jax was with us, celebrating and having fun.
Our family brought a bit of Gotham to our quiet neighborhood on Friday. Gray dressed as Batman, Ellie as Catwoman, my wife was Robin and I painted my face up as The Joker. Marvel visited us in the form of my nephew as The Hulk and my wife's brother and his fiance brought some DC back as Clark Kent Transforming in to Superman and Lois Lane, respectively.
We spent the evening on our front lawn with chili, tortillas, corn bread and Halloween goodies. The kids did some crafts, I blasted some music and we watched the night unfold in front of us.
Much thanks to my wife for making me up as The Joker. Except when she tried to stick the paint brush in my eye. Twice. I yellowed out like a little biiiiiiiiiiiittttttttttttttccccc…..I don't know how you women do it. She might as well have poking a machete at my eye when she tried to paint under my bottom eyelashes. I yelled at her to stop. Twice.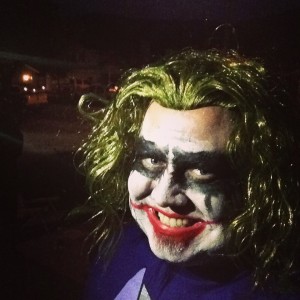 I scared the Bat poop out of Gray when I unveiled myself. He was genuinely spooked. Fortunately after a couple of minutes he warmed to the idea. But he cautiously watched me the rest of the night.
Two houses to our left the neighbors annually spook the neighborhood with a mysterious walk way backed by a disguised voice on a microphone talking to the trick-or-treaters.
"I'd actually feel more comfortable if we started the other way," he said as we began to head out to beg for candy. Batman's gotten soft over the years.
He took charge as we paraded through the neighborhood, always pushing our line forward and on to the next house. Ellie always waited for her cousin, Liam. While Gray had no abandon stomping up to front doors, Ellie's trepidation seemed to subside with The Hulk next to her.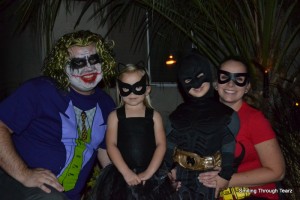 In all, it was a very fun night. Even though our neighborhood was quiet again before 9 p.m. It's Halloween on a Friday night, people! WTF?
Gray fell asleep on me at the end. He has this ability to turn in to a sack of potatoes once he finally sleeps. Here he is just before pajamas.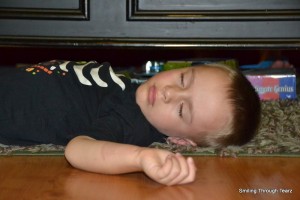 Saturday
We spent most of the day relaxing. At one point, my wife and I were on the couch chilling when Ellie crawls up, lays across me on her back and just hangs out with her head off my left arm, sprawled out. She loves cats. She wants a cat more than a dog. She was Catwoman for Halloween. I swear she was a cat in another life.
At night the kids dressed up once more in their costumes and we went to the Tim Burton Show that Popzilla Gallery and my friend Sam fantastically put together. Strangers kept asking to take pics with the mini Batman and Catwoman. The gallery was jammed and it seemed like a terrific turn out for opening night. The art work was amazing. As we searched for parking in a nearby garage, we passed Edward Scissorhands having his blades strapped on by a friend in jeans and a t-shirt. There were several characters in cosplay roaming around. Gray made sure to stay away from him in the gallery. We bought a few prints, including this Catwoman piece to hang on Ellie's side of the room.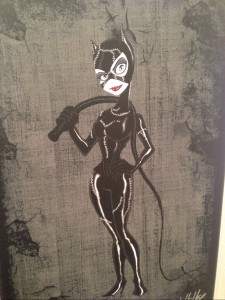 We finished the night eating dinner at 9 p.m. at Lazy Dog Cafe. We didn't carry the sack of potatoes to bed until nearly 11 p.m. Needless to say, we spent Sunday recovering.
Enjoy these other pics from the gallery. Go here if you want to buy anything yourself.