Last night we took the twins to Toys "R" Us to pick out Christmas presents for Jax. The first Christmas after Jax died, my wife and I dropped the kids off at my parents and shopped at Target by ourselves. It's hard buying gifts for your 4-year-old son who isn't there anymore.
My wife gathered up some treats for the fire station that responded the day Jax died, and she somehow persuaded me to drop them off, alone, along with the toys we picked for Jax to give to Toys for Tots, just before Christmas day. It turned in to me sobbing in front of these two men that probably really didn't understand why I was there, then walking away feeling lame. I walked in the door and told her I'd never do it again.
Last year we took the kids shopping with us. Which was a pain in the butt, because trying to get 2-year-olds to not think about themselves for a minute is tough. And then I became emotional, tearing up in Target, pissed that I don't know what 5-year-old Jax would want for Christmas. It tore at me. After shopping, we went to Panera Bread, picked up goodies, and my wife and the kids dropped them off at the fire station, along with the gifts, while I sat in the minivan and avoided that cry fest. She returned with her eyes red, looking drained.
"I told you," I said, trying to defend my choice to stay in the van.
Now, before I go on, remember this:
On the day of Jax's viewing, five days after he died, my wife got a voice mail on her cell. Now, before Friday, she'd received many texts and voice messages. Everything worked fine. The voice mail she got was from my phone. Sirens screamed. It was chaotic. I pocket dialed her or didn't hang up when she didn't answer. It's eery that the voice message, recorded Sunday, didn't land on her phone until Friday, the day of his viewing.

She told me she remembers thinking that it had to be Jax sending her a sign. Since that day my wife's had a strange relationship with fire trucks. She sees them when she needs them most – to remember that Jax is close by. She saw one drive by our church the day of his funeral service. After a hard commute home, she saw one pull out of our tucked-away residential street. On holidays she finds them driving around town without sirens or an emergency to respond to. The engine that responded when Jax died was number 6. She's also had a handful of run-ins with engines with number 3 (Jax's number in tee-ball).

Some people have butterflies follow them, which are supposed to be the spirits of their dead loved ones. Kristina gets fire trucks.
At 12:17 p.m. yesterday, she text me that she'd seen two fire trucks that day. She had taken the kids to the dentist and was bringing home lunch. Then she went to counseling while I watched kids. Exactly one hour later she text me that she saw two more fire trucks on the way to her appointment. One of them was coming out of the back street where we took Jax and the twins to swim lessons. She parks there for counseling. I guess Jax knew we were shopping for him, and wanted us to know he was with us.
It went better this year. For the most part, the kids did a good job shopping for Jax. They picked out good gifts, but did get distracted with their own wants. Gray picked out an Avengers longshot bow. He loves bow-and-arrows, Jax loved the Avengers, and I can totally see Jax blasting Gray in the head while Gray laughed, just happy to be played with by his big brother.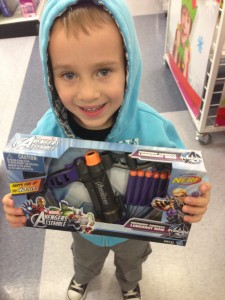 Ellie picked out a Baymax helmet and rocket hand set, from the movie Big Hero 6. I'm positive Jax would've loved the movie, as super heroes enthralled him. And again, he could shoot Gray in the head with it, which I'm positive would make Jax's day every single time.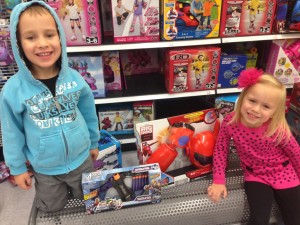 My wife picked out a Flo's V8 Cafe play set. Cars was Jax's thing. He knew all the characters, their traits, personalities and constantly played with a race track that my aunt and uncle gave him one year. He'd love it. I love it. I can see him recreating his own Radiator Springs in his room with this.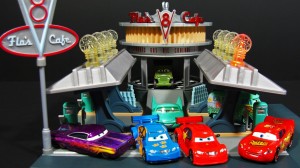 I selected a remote control Triceratops that roared and slugged along with glowing eyes. Another obsession of his was dinosaurs. Like the Cars characters, he knew all of their names, and was destined to be a paleontologist. That is, if baseball didn't work out.
After shopping some more for the kids, somehow unbeknown to them (I love how we bought seven gifts and they had no clue), we drove over to Panera, got the goodies, and dropped them off at the fire station with the toys. The kids got stickers and we were set to leave when my wife looked at me. I just stared back. Then she explained why we did this. The tears rolled. I couldn't look at the fire men watching us with their pity. Just nodded, watched the door to leave, and waited to scoot out at the right time.
But I'm glad she has the strength to do it. To talk to them, tell them why we're there. Keep our boy's memory going.
Merry Christmas, Jax. I hope you love your gifts.