Thanks to whoever it is that schedules Major League Baseball games, the Angels are home again on June 24, so we're going to have the Jax Remembrance at Angel Stadium again this year. It is a Friday night, they're playing the Oakland A's and it's "ugly sweater" baseball cap night.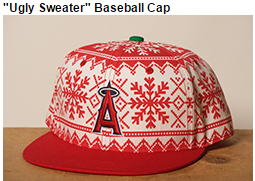 Like the last couple of years, we'll meet before the game in the parking lot to visit, eat and play some catch or wiffle ball. Then we'll meet again in front of the stadium and walk to our seats together. Unfortunately, because it's a Friday night game, our same seats from the last two years increased to $21 per seat this year.
As we get closer to the date, I'll provide more details for the night.
Please let me or Kristina know if you are coming. We should buy tickets within the next two weeks.