In case you don't follow me on Twitter or Facebook, I finally wrote again at Bugs & Cranks. You can find it here.
Friday
Papa John's Pizza wants me dead. My wife worked this weekend, so I figured I'd be healthy and eat peanut butter and jelly with the kids. But then I got an email from those murderers offering a $10 large buffalo chicken pizza, and dinner was decided. It's supposed to feature chicken poppers, ranch sauce, bacon, onions and spicy buffalo sauce. If there was any buffalo sauce on it, they were very conservative on my pie. It tasted mainly bleh. I'm a sucker for anything jalapeno or buffalo. And Papa John's sucked me and my clogged arteries right in to disappointment.
Gray's been on a Halloween kick (I wonder where he gets it). While flipping through Netflix to find some fun Halloween-related, kid friendly show, he noticed The Nightmare Before Christmas. So we watched that, which pushed Tangled to the side and kind of irked Ellie. She's been asking to watch it for days, and I haven't seen it yet.
Saturday
Gray woke up calling me Oogie Boogie and my wife, who just walked in fronm her night at the hospital, a witch. He must have dreamt about Halloween Town all night.
While my wife slept the kids and I played some games up until lunch and then a nap.
I made last-minute plans to meet a friend for some drinks and talk about life. Life's hard. Like, it's a bajillion times harder than I ever expected when I was 24. Thank you mother-in-law for taking me up on my late offer to watch the kids so I could go be with a friend. We both appreciate it.
Sunday
"We go Disneyland today?" Gray asked right after I opened the door to the twins' room to get them up. The hell? Between Disneyland and Angel Stadium, one of them asks to go to either place six of seven days.
To get them out of the house and let my wife get at least a few hours of quiet, I thought a trip to the Disneyland Hotel would be fun. It'd satisfy their thirst for Mickey and Minnie for the oh so low price of $0.
We walked around the hotel, they got their fix and we grabbed some lunch. Then we made our way over to Downtown Disney and eventually I was stupid enough to go through the bag check and towards the front of the park to tease their little hearts out. 

In October we are going to Mickey's Halloween Party, a special event that you need to buy a separate ticket for. They kick everyone else out of the park that doesn't have a ticket, have trick-or-treat stations, the villains walking around the park and it's just a huge Halloween party. It's awwwwwwwwwesome. Tickets are about $60 and include free parking, so that in itself is a deal. And all the regular rides are open. Anyway, I wanted them to see the pumpkin decorations for Halloween time at Disneyland.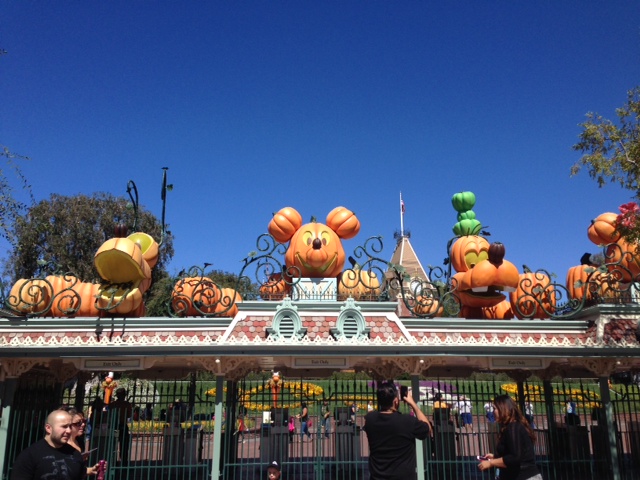 My tease turned into this pathetic shot.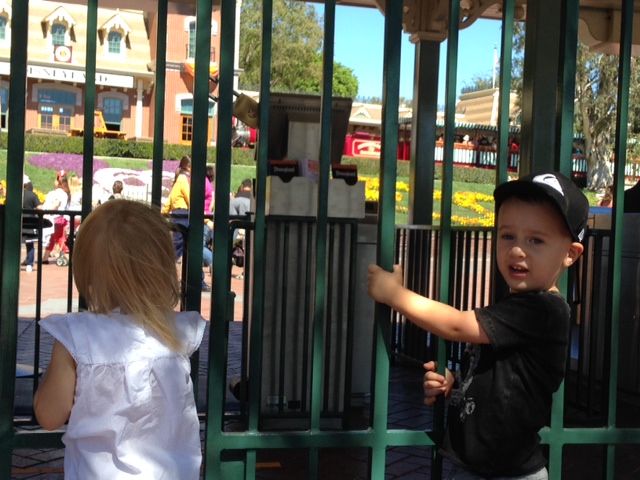 Gray was telling me we needed to get in the line behind him. I suck.
The kids were exhausted and I alternated carrying them back to the car, which never happens. When we got inside the house, Ellie said "Look at the tiny lady bugs." I looked closer. Ants. FREAKING. EVERYWHERE. I threw the kids in their room, gave them a snack and started spraying. The trail ran from our front door, through the front room and into our living room. We'd only been gone for three or four hours. My wife woke up, I got the kids into their cribs for nap and we spent the next hour spraying, wiping, cleaning the floors. Ants suck. 
Since my wife worked we went to our first evening service at Saddleback. It was a little scaled back than the morning service. Most noticeably, Gray and Ellie were the only 2-year-olds and they had to share a room with the infants. When we picked them up, they were both jumping around in a baby walkers. And they loved it.
At night I helped my wife in her baking quest and got all domestic. Her mom works at a hospital and apparently the entire staff are diabetics. She's on her fourth round of baking goodies to help raise money for team Iron Jax and the CHOC Walk. I helped make the pretzels. Which pretty much meant slathering them with melted chocolate and sprinkling goodies on them unevenly.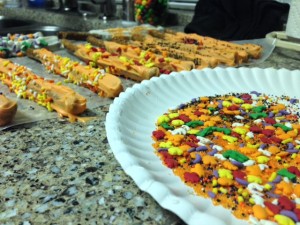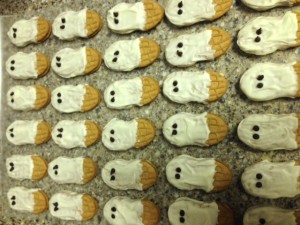 Today is the last day to request an Iron Jax t-shirt ($10). If interested, let me know what size you want. It features this image, created by my great friend Sam Carter.
How was your weekend?