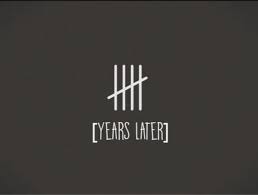 A couple of weekends ago I was driving all three kids home from an over-night stay at their great grandpa's with their cousins. They conked out about five minutes after getting on the freeway, exhaused from staying up late and suffering from excessive sugar hang overs.
I was somewhere between Cerritos and Buena Park on the 91 East when it hit me, hard, like a punch in the gut from late-80s Mike Tyson. Jax has been gone longer than he was here.
That's fucked. Lonliness filled me with despair. For whatever reason, a quiet car has been a magnet of super shitty thoughts for me since Jax died. In that moment, all those feelings came rushing back. It only lasted for 10 minutes, but it left its mark. Then, as I do, I crammed those feelings way down deep. And now, here we are. Five years that I last rubbed my fingers through his hair, heard his voice, made him smile and gazed in to his gorgeous eyes.
Saturday, the day of the remembrance, was rough. It was the hardest remembrance for me emotionally since the first year. The lack of booze didn't help. At least at the Angel games I can numb myself up some. Disney's El Capitan Theater offered no such relief. I didn't want to be in my own skin. Acting natural felt forced, and I had trouble relaxing and just being.
Kristina missed most of the movie as Phoenix, who was missing his nap time, didn't want to sit quietly. She was having a hard time Saturday, too, and this didn't help.
The movie experience itself was terrific. Jax would've loved this so much. El Capitan is beatiful and the preshow, which I can only describe as a 13-year-old's idea of a fun day on acid, was pretty cool. And the movie, Cars 3, was a fitting end to the franchise. Garvey, who is slightly older than Jax, said it was the best movie in the trilogy. I think Jax might've agreed, especially with the emergence of namesake Jackson Storm. It was an apt way to honor our missed little boy.
After the movie we gathered in the lobby, trying to catch up and say hello to those that joined us. At one point I looked out to the front on Hollywood Blvd, and what do you know, a fire truck inched its way along traffic. That's our boy for us. Much needed. A few minutes went by and I couldn't hold my emotions in check any further. Hugs made my eyes swell and at some point I lost it, breaking out in a hard, loud, ugly cry. The climax of my awkwardness.
I'm pretty sure we held the El Capitan crew up from opening doors for the next show time, but they never asked us to leave and were very courteous. We headed back to the parking structure and began our voyage out of Los Angeles, stuck in 101 traffic. We ate lunch with friends at an Island's in Long Beach and then went home.
Kristina crashed on the couch. She didn't sleep well the night before, with the day looming. Gray pulled out his Cars toys to play with, so we raced together while he recreated the movie on our living room floor. At night, my mother-in-law picked up balloons and we wrote notes to Jax and released them.
Then Kristina and I headed back to the theaters to catch a 10:30 PM showing of Cars 3. We weren't the only ones in the theater, but it was pretty bare. No baby to hold or kids to rush to the bathroom, so Kristina could an enjoy an uninterruped viewing. I tagged along mainly for security. I didn't feel great about her going to the movies late by herself. When we walked out back to our cars after midnight, I asked her thoughts, and she said it was cute. And agreed Jax would've loved it.
Saturday is a reminder that none of this gets easier. Some days are just shitty. And it's normal, even after a string of non-shitty days, no matter how many years after the fact.
Thank you to those that joined us Saturday and those that couldn't, who continue to honor our missed little boy and support our family with love and kindness. Sometimes, because of my own shit, I'm not able to express it. But it does mean so, so much to us. We love you.