Friday
I left work early and we drove down to Costa Mesa to hit up the Orange County Fair. Since Jax was born this has been an annual tradition for our family. We have the photo booth strips to prove it.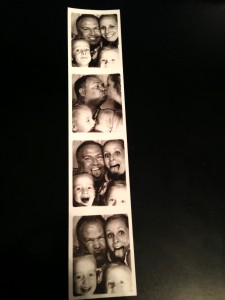 Maybe announcing "Okay, kissy face!" was a bad idea in the second pic. Damnit, Gray, CLOSE YOUR MOUTH WHEN YOU KISS YOUR SISTER!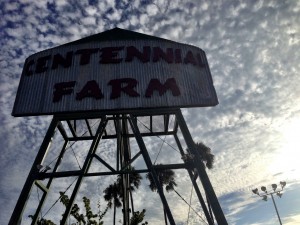 From noon – 4 p.m. certain fair food was $2 and the children's area was $2 for rides and games. We packed in carne asada tacos, garlic fries and shaved ice in the 90 minutes we had to exploit the offer. Oddly, the kids didn't want to go on any rides. They cried hysterically on the carousel. Ellie panicked on the motorcycles (they go around in a circle) to the point that the ride's operator told us that they'd prefer not to the scar kid if they're scared. All I wanted was for him to pound that start button, because I knew she'd be okay once it started. He finally did. When she got off, she told me she had so much fun. Her face was red and swollen from crying.
We saw farm animals, watched the pig races and chowed down. Don't bother with the fried Klondike. Unless you like bland mush.
At night a Sublime tribute band, 40 Oz to Freedom, performed at The Hangar. Gray's obsessed with live music and stood at the front of the railing that separates the paid audience from the mooching fair crowd, chewing on his hands (a nervous habit) and surrounded by adults sipping on beers. Eventually we moved towards the back of the pack for some space.
As Gray straddled my shoulders, Ellie felt the music from the stroller.
She looks like the second-hand smoke got to her. But I assure you, this was a smoke-free environment.
Saturday
We went over to the Corona Farmer's Market to pick up some fresh fruit and veggies. They should really change the name to A Bunch of Pop Up Tents in an Old Parking Lot Market. I think that Sears sign is about as old as me. ANCIENT.
At night my wife and her mom worked on some party-planning activities, so the kids watched another of the Pirates of the Caribbean flicks. I think it was the third one. Honestly, I have no idea wtf was going on. The sound wasn't super loud, I didn't really pay attention, and it appears this was the third movie in the franchise. So we have no idea what happened in the second. But it seemed like the director took a substantial amount of mushrooms to do the film. He was probably paid in mushrooms. "Forget the points on the back," he must've told the studio. "I want mushrooms."
Sunday
Earlier in the week my counselor told me that Saddleback Church's pastor Rick Warren returned after 16 weeks following his son's suicide. He started a series called "How to Get Through What You Go Through." My counselor handed me a sheet of notes she received when she attended his first service back. The sheet outlined the upcoming topics in the series, which I identified with immediately. I told my wife about it and we decided to visit a church for the first time since our church closed in May.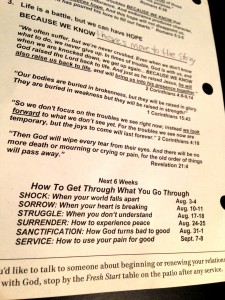 Warren breaks down six different emotional steps of crisis. His and mine relate to the death of a child, however he said this also is for people who have lost their job, a relationship or have been diagnosed with a serious illness.
Saddleback Corona makes its home at Santiago High School. We made it to the 11 a.m. service, got the kids registered for their class and found the auditorium for the service. The satellite church (the main church is in Lake Forest) has its own worship band and pastor. Then we watch Warren's sermon from the night before on video.
In the middle of it Warren's wife prayed. She asked those that are going through a crisis to stand. I kept my big butt in my seat, but my wife was ballsy enough to stand up. I sobbed during the whole prayer. Every single thing she said was spot on. Throughout the sermon I found myself hoping for less scripture and more of Warren's own account of his feelings, emotions and experience. This is what I thirst for. What I yearn for. It's what I identify with.
He talked about the day his son died. He stood in the driveway of his son's home with his wife, and minutes after they arrived friends came to support them. They didn't talk. They just placed hands on Warren's shoulders. They were simply present. Words weren't needed. But touch was. That night these same friends slept at Warren's house. On his couches, his floor, anywhere. They didn't want him and his wife to be alone.
I flashed back to the night Jax died. The hospital waiting room was packed with our family and friends. Most waited to come hug us after he died. To cry with us. Their tears were enough for us. Words weren't needed. And if they were spoken, I don't remember what was said. But I remember everyone's presence.
Anyway, we decided to go back through the end of the series in early September. This is exactly what we need to hear right now.